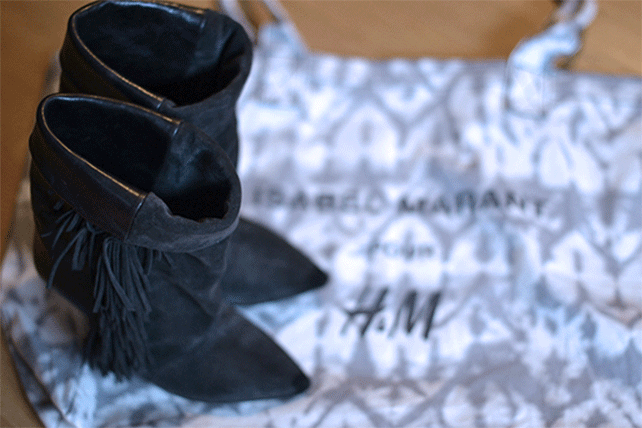 Like most previous years,
i pondered about the usual h&m + designer marketing trick
. Most times, i don't even like the pieces (ok, minus the Versace collab, that one was righ up my alley) but somehow end up feeling pressured into wanting them. This year i was at ease since the Marant look really isn't my usual aesthetic...until i noticed THE boots. Slouchy, fringed, kind of 80ies inspired boots. My kind of boots. But i really didn't feel like getting up super early and fighting a bunch of greedy fashionistas so i let the idea of owning them go. Also, im not in a financial place to be buying another pair of boots. In the evening, though, the bf needed some basic shit from h&m so i ended up in the store anyways. Some pieces of the collection were still waiting to find their eager owners but there were no booties left... instead of letting it go i had to /had to, i tell you!/ ask the clerk if they were even available in Slovenia and he said that yes, and yes, there is one pair left - the ones in the window, size 36. In the minute it took him to fetch them i secretly hoped they would be as uncomfortable as all other collab shoes (come on, it's not my first time at this carnival, i tried my luck with the Lanvins, Versaces and the Margielas before) but no, they were perfect. So i bought them. And now i'm on a giant guilt trip. But at least it's a fabulous one...